Deprecated
: wp_make_content_images_responsive is
deprecated
since version 5.5.0! Use wp_filter_content_tags() instead. in
/home/washwp/dev.w-cm.com/html/wp-includes/functions.php
on line
5083
The Scarlett "T", is it Forever?
Elaine Chao was one of the last few Trump-administration longtimers left gaping at the horror of January 6—the now infamous day when a supporter of the 45th President stormed into the US Capitol wearing horns and face paint and sat in the Vice President's chair in the Senate chamber; a fellow Trump loyalist was killed as she tried to breach the House chamber; and hundreds of other so-called patriots marauded through the building in the name of Making America Great Again after maiming police officers outside. Widely viewed as an experienced voice of conservative reason when confirmed as Secretary of Transportation in 2017, Chao had outlasted many colleagues who jumped off the Trump train well before the Capitol insurrection. It wasn't the first time she had stuck it out in a controversial administration. After heading the Labor Department through the entirety of George W. Bush's tenure, she was rewarded with a board seat at Dole Food Company, and later News Corp. and Wells Fargo, with a payout from the latter reported to potentially hit $5 million. But this time, her loyalty seems to have come with complications.
Although she resigned in protest on January 7, until very recently Chao's only publicized post-Trump gig was a slot at the right-leaning Hudson Institute; in late June, she was named to the board of a maker of self-driving truck technology. Her association with Trump, along with an inspector general's finding that she used agency resources to help her wealthy family's shipping business, will mess with her ability to get on the board of a Fortune 500 company, says a former Republican strategist: "They need people with pristine reputations."
Such has been the fate of the Always Trumpers who stayed until the cataclysmic end, or at least through the 2020 election. Whereas a number of insiders who got out early found their way in the private sector, seven months out from the transition, the die-hards are still branded with a scarlet "T." Trump attorney general Bill Barr's former firm, Kirkland & Ellis, has not rehired him, compared with Covington & Burling, where Barack Obama's AG Eric Holder returned as partner. And while Colin Powell joined the venture-capital firm Kleiner Perkins and accepted multiple board seats, including at the Council on Foreign Relations, after he was Secretary of State under Bush, Mike Pompeo is doing Fox News hits and serving as a fellow at the Hudson Institute. ("I guess he could go to the MyPillow board," the former GOP strategist quips.)
Some Trumpies were never considered terribly qualified to begin with. (See: press sec Stephanie Grisham, adviser Hope Hicks.) As for others, "if they were really Trump boosters, they knew what they were getting into," says Doug Heye, a former communications director for the RNC and top aide to ex–GOP majority leader Eric Cantor. "This is the natural progression of the orbit that they're in." They weren't necessarily expecting gigs with a Washington or Wall Street imprimatur, the theory goes, because they saw their future in the land of Keeping America Great.
Still, the stain of January 6 is making post-administration life harder than usual for former powerbrokers who could otherwise expect softer landings. The publishing industry has faced open revolt from its own authors who petitioned to keep Trumpers from cashing in on tell-all memoirs. After Mike Pence's $3-million-plus, two-book deal with Simon & Schuster went public, the company was hit with a petition signed by more than 200 employees and 3,500 supporters (including its own authors) calling for the deal to be killed. Three months earlier—on January 7—S&S had canned a slated book by Missouri GOP senator Josh Hawley, who had sought to overturn Joe Biden's election.
Out of the public eye, meanwhile, other institutions are redlining Trumpers who endorsed the former President's stolen-election claims. The Council on Foreign Relations, the bipartisan think tank with a long embrace of administration formers, has four ex–Trump political appointees from Treasury and State (including former ambassador to India Kenneth Juster) serving as fellows and hasn't received any blowback. "If we did get pushback, we would be prepared to defend our decisions . . . with the quality of their scholarship and the depth and range of their experience," a council spokesperson says. But it's "highly unlikely we would hire someone in any capacity who was promoting the factually incorrect idea that the election was stolen."
Sean Spicer and Reince Priebus were fellows at Harvard's Kennedy School of Government despite their Trump ties, but when New York congresswoman Elise Stefanik became a congressional figurehead of the stolen-election movement, the institution removed her from a committee.
Will the ostracism last? Some are convinced there will never come a moment of forgive-and-forget for the Trump 2020 crowd. "Anybody who knew [the President] and still thought it was a good idea for him to be in the Oval Office," says the former GOP strategist, "they either have utterly broken judgment or were solely interested in advancing their own interests independent of what the national interest should have been."
But others believe the 2022 midterms will be a tell. If there's a red wave and Trumpers are newly empowered, K Street would come to see a lot more value in, say, a former congressman turned Trump chief of staff like Mark Meadows who could play nice with the incoming leadership. Proximity to power is a great way to launder a reputation.
Back to Top
Make Trump Great Again
Mike Pence
Veep, 2017–21
Settling into his new 10,000-square-foot home north of Indianapolis, making moves for a 2024 run. Writing two books in a $3-million-plus deal. Launched the Trump-backed Advancing American Freedom, a dark-money political group. Distinguished visiting fellow at the Heritage Foundation. Planning to podcast.
Stephen Miller
Speechwriter and senior adviser to the President, 2017–21
Launched America First Legal, an ACLU-style conservative legal watchdog created to challenge Biden-administration initiatives in conflict with Trumpian agendas. Reportedly living in Arlington, though still owns his City­Center condo in DC; has been spotted at Cafe Milano with wife Katie Miller.
Mark Meadows
White House Chief of staff, 2020–21
On the board of Miller's legal organization; senior partner at the Conservative Partnership Institute, an advocacy group/think tank founded by former senator Jim DeMint. Still has his Alexandria condo.
Russell Vought
Office of Management and Budget director and other appointments, 2018–21
Founded the Center for Renewing America think tank to fight critical race theory in schools, voting-rights expansion, and Big Tech. Part of Miller's legal watchdog and Pence's political group.
Marc Short
White House legislative director, 2017-18; chief of staff to the VP, 2019–21
Co-chair of Pence's political group. Cofounded his own group (the Coalition to Protect American Workers), which is buying ads to fight the Biden tax agenda and tax hikes on businesses.
Katie Miller
VP's communications director and other appointments, 2017–21
Popping up on the right-wing airwaves recently, flacking as comms director for the Coalition to Protect American Workers, Short's new group.
Brooke Rollins
Assistant to the President (Office of American Innovation) 2018–20; Acting director, Domestic Policy Council, 2020–21
Founded the America First Policy Institute to promote the Trump agenda. The new think tank has put a bunch of Trumpies to work.
Nikki Haley
UN ambassador, 2017–18
Founded a dark-money group that focuses on border security, tax reform, and other pet issues for conservatives. Recently met with the ousted Benjamin Netanyahu in Israel and sparked outcry after referring to him as prime minister on Twitter. Expected to go for the Oval in 2024 . . . as long as her ex-boss doesn't run.
Ken Cuccinelli
Acting deputy secretary of Homeland Security and other appointments, 2019–21
Representing congressmen Louie Gohmert and Andrew Clyde in a lawsuit challenging new security measures in the House. Leading an initiative to prevent expansion of the Supreme Court and push for states' rights when it comes to voting laws.
Back to Top
Saved by the Book Deal
Kellyanne Conway
Counselor to the President, 2017–20
Her pitch for a tell-all—which may even include juice about the domestic dramas that dominated her latter years in power—reportedly snagged a multimillion-dollar advance from a conservative imprint at Simon & Schuster. Adviser for Ohio Senate candidate Bernie Moreno, a car dealer. Has registered a consulting business in DC with cousin Giovanna Pence.
Bill Barr
Attorney general, 2019–20
Formerly of counsel at Kirkland & Ellis, Barr isn't back to billing by the hour for the firm but reportedly has a deal (with an unspecified publisher) for a memoir about his time heading DOJ.
Back to Top
Stealing into the Night
Hope Hicks
White House communications director, 2017–18; counselor to the President, 2020–21
Though she had a stint as a Fox News executive vice president after her first White House departure, she's been off the grid since her second exit this past January.
Stephanie Grisham
White House Press secretary and other appointments, 2017–21
The first press sec in history never to hold a press conference, she was largely invisible to the public while on the job . . . the same as now.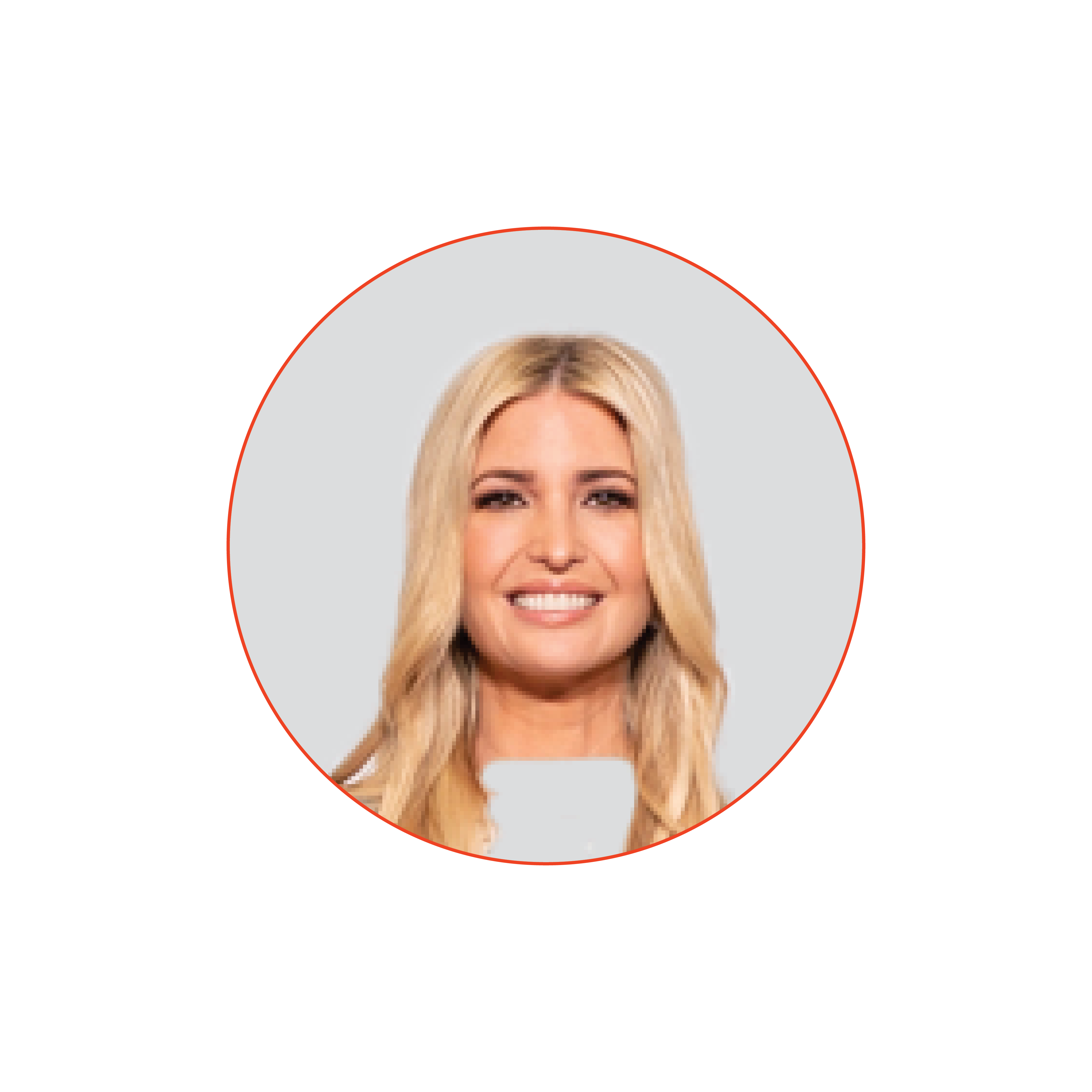 Ivanka and Jared
Advisers to the President, 2017–21
Serving out their exile from the Acela corridor in a water­front condo in Surfside, Florida, about an hour south of Dad and two blocks away from the condo building that recently collapsed. Reportedly informal advisers to Brooke Rollins's new think tank. Jared just landed a deal for a tell-all that a conservative imprint at HarperCollins will publish in 2022.
---
Moneymaker Memoirists
An unscientific ranking of Trumpie book deals by payout, sales, and publisher prestige
1. John Bolton $2 million–plus advance
2. Mike Pence* $3 million–plus advance
3. Kellyanne Conway* multimillion-dollar advance
4. Anonymous/Miles Taylor
5. Cliff Sims seven-figure advance
6. Jared Kushner* seven-figure advance
7. Nikki Haley
8. Sarah Huckabee Sanders
9. H.R. McMaster
10. Omarosa Manigault Newman
11. Anthony Scaramucci
12. Kayleigh McEnany*
13. Scott Atlas*
14. Mark Meadows*
15. Peter Navarro*
*Not yet published
---
Back to Top
Beltway Deserters
Jerome Adams
Surgeon General, 2017–21
Medical expert/contributor for Wish-TV, an Indianapolis affiliate of the CW network; practicing anesthesiology at OrthoIndy Hospital; a dean's fellow at UVA's business school. On the board of an antiviral-drug company banking on a pill to fight Covid.
Kirstjen Nielsen
Secretary of Homeland Security and other appointments, 2017–19
Founded a consulting firm, Lighthouse Strategies, to advise the tech sector on security threats. Sold her Old Town townhouse and moved to California.
Rick Perry
Secretary of Energy, 2017–19
On the board of LE GP, a Texas-based energy transportation company. (He was on the board of an affiliated firm before coming to DC.) A chairman at Brooke Rollins's America First Policy Institute.
Back to Top
Think Tanking
Alex Azar
Secretary of Health and Human Services, 2018–21
Named to the Aspen Institute's Health Strategy Group, ex officio.
Ben Carson
Secretary of Housing and Urban Development, 2017–21
Launched the American Cornerstone Institute think tank and the Think BIG America PAC. Consulting for a biotech (Galectin Therapeutics) that's developing a cirrhosis treatment and recently joined the board of a homebuilding company (D.R. Horton).
Mike Pompeo
CIA director, 2017–18; Secretary of State, 2018–21
Distinguished fellow at the Hudson Institute; senior counsel for global affairs at former Trump personal attorney Jay Sekulow's American Center for Law and Justice. Also getting face time with potential Pompeo 2024 voters as a contributor on Fox News.
Deborah Birx
White House Coronavirus Task Force coordinator, 2020–21
Senior fellow at the George W. Bush Institute; chief medical and science adviser for ActivePure, a company claiming that its purifiers clean Covid-19 from the air in minutes; on the board of a biopharmaceutical holding company (Innoviva).
Robert Wilkie
Undersecretary of Defense, 2017–18; Secretary of Veterans Affairs, 2018–21
Visiting fellow at the Heritage Foundation.
Elaine Chao
Secretary of Transportation, 2017–21
At the Hudson Institute, leading a program on labor and transportation policy and economic leadership. Recently joined the board of Embark, a startup in self-driving-truck technology.
Back to Top
Washington Inc.
Chad Wolf
Acting Secretary of Homeland Security, plus other appointments, 2017–21
Set up a consulting and advisory firm in Alexandria with some fellow DHS alums. A Heritage Foundation visiting fellow; a chairman at Brooke Rollins's think tank.
David Bernhardt
Secretary of the Interior, 2019–21; Deputy Secretary, 2017–19
Rejoined the lobbying and law firm Brownstein Hyatt Farber Schreck. On the board of Pence's political group and a chairman at Brooke Rollins's think tank.
Seema Verma
Administrator of the Centers for Medicare and Medicaid Services, 2017–21
On the boards of the healthcare companies Lumeris, Monogram Health, and 100Plus. Board member of Pence's political group.
Mick Mulvaney
White House chief of staff and other appointments, 2017–21
Started a hedge fund while serving as Trump's special envoy to Northern Ireland.
Dan Coats
Director of national intelligence, 2017–19
Joined King & Spalding as a senior policy adviser. Appointed in June as distinguished scholar at Indiana University's school of global and international studies.
Eugene Scalia
Secretary of Labor, 2019–21
Returned to Gibson Dunn as a partner.
Don McGahn
White House counsel, 2017–18
Rejoined Jones Day to lead its government-regulation team.
Rod Rosenstein
Deputy attorney general, 2017–19
Joined the law firm King & Spalding as a partner.
Robert Redfield
CDC director, 2018–21
Began advising Novavax this past spring; also public-health adviser to Maryland governor Larry Hogan.
---
Mic Prices: An Oh-So-Trumpie Sampling
Surgeon General Jerome Adams
Years: 2017–21
Fee Per Appearance: $30K–$50K (in-person speech), $10K–20K (virtual speech)
Comms Adviser Omarosa Manigault Newman
Years: 2017
Fee Per Appearance: $85 (personalized video on the Cameo recorded-greetings app)
Treasury Secretary Steven Mnuchin
Years: 2017–21
Fee Per Appearance: $250K (in-person speech), $75K–$100K (virtual speech)
Deputy Assistant to POTUS Sebastian Gorka
Years: 2017
Fee Per Appearance: $99 (personalized video on Cameo)
Comms Director Anthony Scaramucci
Years: 2017
Fee Per Appearance: $55 (personalized video on Cameo)
---
Back to Top
Fox and Friends
Kayleigh McEnany
White House Press secretary, 2020–21
Dissecting the day's headlines as cohost of the daytime program Outnumbered, a sort of The View for the MAGA crowd.
Larry Kudlow
Director of the National Economic Council, 2018–21
Hosts Kudlow on Fox Business, where he recently claimed that the Biden White House will practically force Americans into veganism. On the board of a company Wilbur Ross started to acquire disruptive-tech firms. Vice chair of the board at Rollins's think tank.
Hogan Gidley
White House principal deputy press secretary, 2019–20; deputy press secretary, 2017–29
Recently hired to pundit on Newsmax. Reportedly launching a political group (Voter Protection Alliance) to keep the "stolen election" narrative alive and push for changes to voting laws. Seen on Insta in Palm Beach flacking designer duds with former Queer Eye host Carson Kressley.
Back to Top
The 0.1 Percenters' Club

Steven Mnuchin
Secretary of the Treasury, 2017–21
Formed an investment fund with money from the Middle East, where he traveled regularly for POTUS. Sold his Park Avenue duplex after reducing the asking price to $26 million but still owns his Mass. Ave. Heights mansion and has been spotted at Cafe Milano.

Betsy DeVos
Secretary of Education, 2017–21
Though her family's estimated $2-billion net worth affords a quiet retreat to their Bahamas resort, she has reportedly been calling Nebraska legislators to lobby for school choice in the state.
Wilbur Ross
Secretary of Commerce, 2017–21
Back to living in Palm Beach and running a new blank-check company to acquire disruptive-tech firms. Investing in public companies that need turnarounds. Bought a $14-million Magritte at Christie's; his Magritte collection is reported to be worth more than $100 million.
Back to Top
West Wingers to Hill Rats
Trumpies now toiling in congressional offices

Judd Deere
Then: Deputy White House press secretary and other appointments, 2017–21
Now: Deputy chief of staff for comms for Tennessee senator Bill Hagerty
Julia Hahn
Then: Deputy assistant to the President; deputy White House comms director, 2017–21
Now: Senior comms adviser for Tennessee senator Bill Hagerty
Sarah Matthews
Then: Deputy White House press secretary, 2020–21
Now: GOP comms director for House Select Committee on the Climate Crisis
Back to Top
Trumpies Turned Trumpie Candidates
Sarah Huckabee Sanders
White House press secretary 2017–19; deputy press secretary, 2017
Running for Arkansas governor.
Ryan Zinke
Secretary of the Interior, 2017–19
Running for newly created Montana House seat.
Andrew Giuliani
White House aide, 2017–21
Running for New York governor.
Jeff Sessions
Attorney general, 2017–18
Lost GOP primary in Alabama senate race to former Au­burn coach Tommy Tuberville.
Photographs by Alamy, Gage Skidmore/FLICKR, and youtube and courtesy of White House Flickr.
This article appears in the August 2021 issue of Washingtonian.